Interview with Eagle's Wings Flight School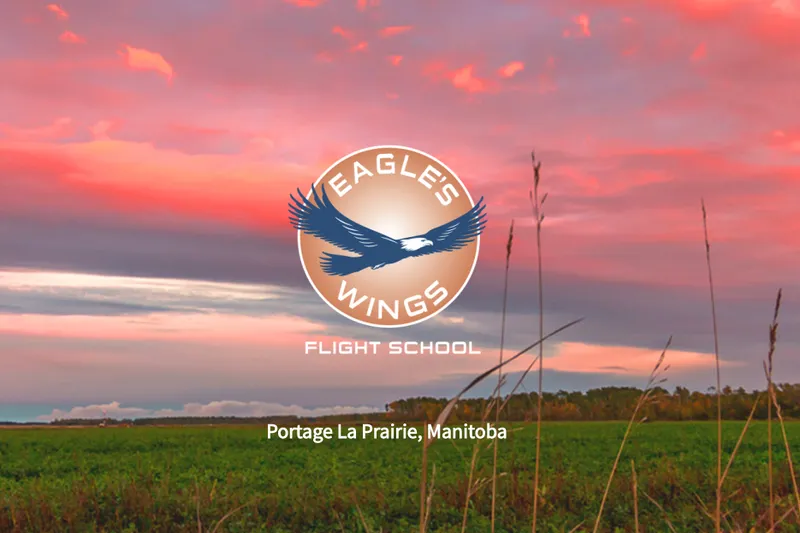 December 16, 2022
Rotech Motor recently caught up with Josh Cordery from Eagle's Wings Flight School in Portage La Prairie, MB. They've got an incredible program for young aviators. Learn more below:
RM: Can you please briefly introduce your flight school and it's purpose?
JC: Eagle's Wings Flight School (EWFS) is a registered charity that is committed to helping at-risk youth find their passion and chart a pathway to success in early adulthood and beyond. Flight training is a unique opportunity and a window into an industry with a need for professionals of all types for many years to come. By training youth to fly, an activity and a career that they never would have thought possible, their perception of themselves, their strengths, and their capabilities will be transformed.

RM: Most of the 14-18 year old aviators you train have never flown in an airplane before. Can you describe how they feel after having tasted flight?
JC: Not only have almost all of our students never flown before, but most also did not have a driver's license either so getting in an advanced ultralight and going flying is a big leap into the unknown for them but they go for it. Everyone is taken with looking down on the world from above, and it isn't long before the cell phone photo requests get voiced to our instructors. It is a such a privilege for me to be right beside them as their smile widens and the nervous excitement starts to shift towards just plain old excited when they start flying the aircraft themselves. We had a student ask how high we could climb and when we asked why he wanted to get up that high, his response was: "so I can see what the world looks like from that perspective!
RM: Your school uses the Allegro 2000 powered by the Rotax 912UL. What advantages does this aircraft/engine combination have over the traditional options (i.e. Cessna 172)?
JC: Using an ultralight aircraft for training allows EWFS to offer the same entry-level instruction that would be taught on a larger airplane but at a reduced cost. The low downtime and reasonable maintenance costs enable us to keep students in the air as much as possible. It is an efficient engine and we have yet to burn any oil so our consumable costs are relatively low and very predictable which is a great operational advantage for Eagle's Wings
We are fortunate to have a couple AMEs (Aircraft Maintenance Engineer - IA/A&P equivalent) volunteer their time to work on the airplane when required and we can do that without needing to call an AMO (Approved Maintenance Organization - Part-145 equivalent) because of our designation as an advanced ultralight, which is again, another key operational advantage for us as we seek to keep costs low and the quality of the training and experience high.
RM: How many hours a year does the EWFS aircraft fly? Are the conditions in Manitoba tricky to navigate?
JC: Our students complete approximately 10 hours of flight training during our program and in our first 3 years, we have worked with 6 students each year. Between the student flying and anyinstructor training/proficiency flying, we fly around 80 hours a year. We are currently looking at ways we can reach more young people so are expecting that to grow a little as we seek to develop those opportunities.
The long summer days in Manitoba usually offer fantastic flying weather, with the only catch being the prairie winds which have caused a couple of rescheduled or delayed trips. Even though our airplane handles nicely, with a typical takeoff weight of 1100-1200 lbs, we definitely get bumped around a bit, and learning to fly approaches in those conditions can be challenging. I am impressed at how well our students rise to that challenge and I like to tell them that if they can fly a good approach in the stronger winds in our aircraft, they can do it in any airplane.
RM: Are you happy with the support you're receiving from your Rotax Distributor (Rotech Motor Ltd.)?
JC: I have nothing but praises to sing of the Rotech Motor Team in Vernon. They have always taken the time to answer any and all questions that I have asked, regardless of when I call and we have benefited from the fantastic technical support and quick service on several occasions.
Yes, we recently signed up to become an official Rotax-Powered Flight School which gets us a much-enjoyed discount on parts, and training. We also benefit from having regular contact with Rotech Motor to ensure our plane is airworthy 100% of the time. We're also hoping the extra exposure on the Flight School Locator will bring greater attention to our program.
RM: Any plans to get another Rotax-powered aircraft for EWFS? Maybe with the 912iS?
We are currently looking at starting up an airplane-build project as a different way of connecting with youth in our community and seeking to do so through the local high school in a co-op format as well as reaching out to other youth focused organizations that could be a good fit. It was always our dream to try and build our 2nd EWFS aircraft as part of the pursuit of our mission and we are very excited about continuing to develop this concept in 2023. When we get to the stage of putting an engine out front, there is no doubt in my mind that we will be flying behind a Rotax and we would be downright giddy if it was a 912iS.
RM: Thanks for answering our questions Josh! All the best for the 2023 flying season.